Rare Stingray Spotted On Great Barrier Reef
A rare stingray, listed as vulnerable on the International Union for Conservation of Nature and Natural Resources (IUCN) Red List of Threatened Species, has been photographed on the Great Barrier Reef.
The Porcupine Ray (Urogymnus asperrimus) was spotted by guests aboard Wavelength Reef Charters at Opal Reef, latitude 16°13 longitude 145°53.5 earlier this year.
So named for the assortment of large conical thorns and smaller, pointed projections found on its upperside, the Porcupine Ray does not have the poisonous barb common to so many other stingray species. Rather, it protects itself from predators with its armoured body.
Porcupine Ray populations are widespread across the world, found in waters off Australia, Egypt, India, Seychelles, Singapore and more, but it is considered uncommon compared to other ray species.
Preferring shallow coastal waters, it was particularly unusual to see the ray on the Great Barrier Reef, as photographed by Chris Witty from Wavelength Reef Charters.
The Porcupine Ray was added to the IUCN Red List of Threatened Species in 2005, after assessment showed decreased populations in several key areas, including Bangkok and the Bay of Bengal.
Its reduced numbers are believed to be a result of fishing, with the Porcupine Ray taken as bycatch in some unregulated fisheries.
The Great Barrier Reef is the world's largest coral reef ecosystem and is a critical global resource, providing protected habitat for many rare and threatened plant and animal species.
References / Acknowledgements:
Photograph by CHRIS WITTY
Click the links below to find out more.
Can't decide? We have personally been on every Cairns reef and diving trip. We can help you choose the best tour, to suit your experience and budget.
FREE UNDERWATER CAMERA HIRE*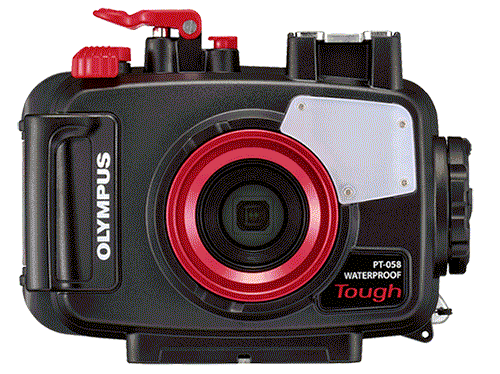 Spend over $550.00 AUD on your Great Barrier Reef tour with us and receive the latest Digital Underwater Camera Hire. Take amazing High-Resolution images and 1080 HD Video.
Not available for any tours to the Islands as fine white sand damages the seals on the cameras and makes them leak!
You need to come into our shop located on the Cairns Esplanade the day before departure to pick up the camera before 5:30 pm. You also need to supply your own SD Camera Card and drop the camera off back at our shop before 5:30pm.
Please Remember there is no other way to collect our cameras! All passengers must come into our shop the day before departure day before 5:30 pm.