The Great Barrier Reef is comprised of individual reef systems, tropical sand cays and islands. Sand cays are produced over time, by the currents and movement of sand. They are surrounded by amazing reefs and provide calm, sheltered waters to explore.
SAND CAY BEACH TOURS FROM CAIRNS:
Sorry, we couldn't find any posts. Please try a different search.
Can't decide?
CALL US: 07 4041 1638
Or try the form below, we have personally been on every Cairns reef and diving trip. We can help you choose the best tour, to suit your experience and budget.
There are two main cays off Cairns, Michaelmas and Upolu, and several boats can take you there. What is the difference between the two cays? Michaelmas is an older cay, it is more established with some vegetation; it's an important sanctuary for sea birds. Upolu is a younger cay and has no vegetation on it as yet.
Port Douglas also has an offshore sand cay, known as Low Isles. Named by Captain Cook in 1770, Low Isles has a lighthouse, tropical vegetation and fringing reef which is home to hundreds of marine turtles. A great day tour for snorkellers: there is no scuba diving tours to Low Isles.
Michaelmas Cay
Michaelmas Cay is one of the most important Great Barrier Reef seabird breeding sites, with over 16 species recorded to visit the cay and up to nine species breeding on it. Nesting is at its peak in the summer months and up to 20,000 birds have been recorded on the cay at this time.
Michaelmas Cay
Nemo Michaelmas Cay
Passion of Paradise
Approximately 43km north-east of Cairns, travel time to Michaelmas Cay is 90-minutes to 2-hours. Cairns Great Barrier Reef tour operators visit the cay and its surrounding coral reefs.
Passions of Paradise has won Australian and Queensland tourism awards and has Advanced Ecotourism accreditation, making them a popular choice for visitors to Cairns and Michaelmas Cay. Their 25m sailing catamaran departs daily, visiting the cay and nearby Paradise Reef for snorkelling, introductory and certified scuba diving. A Passions of Paradise Trip Review is available on this website.
Upolu Cay
Upolu Cay is a naturally formed, unvegetated sand cay, surrounded by fringing coral reefs and shallow, protected waters. Located approximately 40km north-east of Cairns, the cay is sometimes completely covered by water at high tide, re-emerging at low tide.
Upolu Cay is a relatively 'young' cay that started its life as a sand bank and is slowly getting larger over time. Its shape is still changing, governed by the weather patterns and tidal movements. It offers visitors the chance to see a young cay in action. Some birds visit the cay and in time, there is little doubt that vegetation will start to grow.
Ocean Freedom
Try an introductory dive on the Great Barrier Reef
Upolu Cay Snorkel
Michaelmas and Upolu Reefs are a part of the Arlington Reef system, included in the Great Barrier Reef Marine Park. Around the cays you can expect to see giant clams, soft corals, anemone shrimp, sea cucumbers and schools of smaller fish.
For these tours, you can choose between sailing ships and catamarans: all are full day tours. Both of these sites are generally not affected by coastal conditions and visibility is variable pending weather and time of day, but is usually anywhere from 10 – 20m.
Low Isles (Sand Cay)
Low Isles is a 1.6 hectare vegetated sand cay approximately 15km offshore from Port Douglas, which is a one (1) hour drive north from Cairns. Low Isles is actually two sand cays which have evolved quite separately in regards to their vegetation. One is your typical tropical paradise, sandy beaches and a lighthouse complete with palm trees and is known as 'Low Isle', the other is home to mangrove vegetation and is called 'Woody Island'.
Low Isles Port Douglas
Guided Island Tours
Low Isles Lighthouse
Surrounded by fringing reefs, Low Isles is perfect for snorkelers and families. Its sheltered waters do not have much current and water entry is directly off the sandy beach, which has a comfortable and gentle slope. The reef is home to a diverse array of marine life, including anemones, giant clams, hard and soft corals and many types of Great Barrier Reef fish. Many will be excited to hear that up to 300 turtles inhabit these waters.
Wavedancer provides sailing day tours from Port Douglas to Low Isles. This 29.8m yacht is a part of the Quicksilver Cruises Fleet and offers guests the chance to snorkel and explore the cay on marine biologist guided tours. There is no scuba diving on this tour: travel time to Low Isles is about 90-minutes on Wavedancer.
These trips are recommended for guests who can swim. For more information and unbiased advice and trip reviews, please don't hesitate to contact Cairns Dive Adventures on +61 7 4041 1638 | reservations@cairnsdiveadventures.com
Please note: We are not affiliated with any Cairns reef cruise operators. We are Cairns locals, trying to help visitors have the best time they can, on their stay in our region. This website is funded and built by us: we make commission from your tour bookings.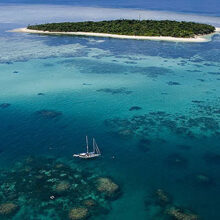 Unique Cairns to Green Island sailing day tour. Max number of guests = 25. Snorkelling & diving plus time on Green Island. Buffet lunch + morning and afternoon tea included. Friendly crew.
Click the links below to find out more.
Can't decide? We have personally been on every Cairns reef and diving trip. We can help you choose the best tour, to suit your experience and budget.
FREE UNDERWATER CAMERA HIRE*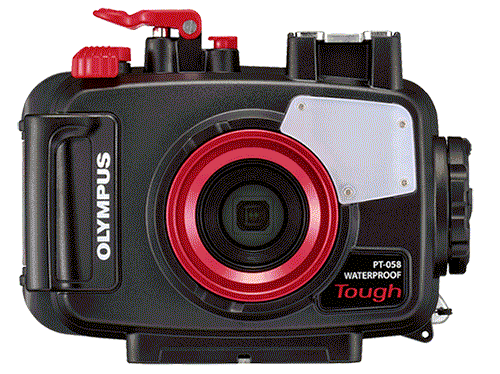 Spend over $550.00 AUD on your Great Barrier Reef tour with us and receive the latest Digital Underwater Camera Hire. Take amazing High-Resolution images and 1080 HD Video.
Not available for any tours to the Islands as fine white sand damages the seals on the cameras and makes them leak!
You need to come into our shop located on the Cairns Esplanade the day before departure to pick up the camera before 5:30 pm. You also need to supply your own SD Camera Card and drop the camera off back at our shop before 6:00pm.